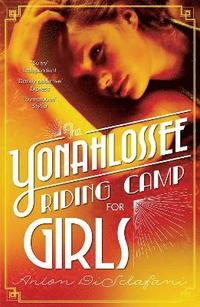 I decided to start the month with my first review for this blog, so here it comes:
The Yonahlosse Riding Camp for Girls is set in 1930's North Carolina. 15-year-old Thea Atwell is sent to an equestrian boarding school where only daughters of privileged families go. It's established early in the book that she is sent here as a sort of punishment. Up until then, she has been living a sheltered life with her parents, her twin brother Sam and her beloved pony Sasi. It's not until Thea hits puberty and the Depression has an impact on their relatives that the family is forced to get confronted with the outside world. After Thea is sent to the boarding school she has to settle into a whole new world; a world of other girls in her own age, and few adults.
I found this book not long ago on Goodreads when I was looking for books similar to Curtis Sittenfeld's wonderful Prep. This caught my attention because of the title and the time period — the 1930's U.S.
First and foremost, this is the story of Thea's emotional growth and attempts to cope with her life, mirroring societal norms at the same time. How these norms intersect, like views on girls' sexuality, parents' concern for their childrens' well-being, a young person's eagerness to explore herself and the world around her, until all these aspects are so intertwined along with all the human failings that are bound to ensue, that you can't positively say 'That was right' or 'That was wrong'. You will cringe, you will feel sorry for the characters, grit your teeth over the irresponsibilities  comitted (mostly on the adults' part), but at the same time you'll have to accept it because you realize you're not sure what choices you yourself would have in those positions.
I think something that adds to this feeling, is the author's own tone – never judging, only empathically recounting what happens. In this sense it did remind me of Sittenfeld's Prep. And that is also what makes the story so human, so hard to brace yourself against.
I hope I have been able to communicate what I appreciated about this book, without going into too much details when it comes to the plot, because there are some spoilers there that I would wish to avoid. But, as an end note; what I have come to love about YA-literature, is the hopefulness it often contains. My previous experiences involving this feeling entails Carol Rifka Brunt's beautiful Tell the Wolves I'm Home, Melina Marchetta's, On the Jellicoe Road and Curtis Sittenfeld's already mentioned Prep. Along with The Yonahlosse Riding Camp for Girls they all involve the hardships of life, and the pain of growing up but ultimately the hopefulness; yes, growing up and trying your wings for the first time will be a paniful process, but when you're through it you will have the tools to make sense of life.